Show Time!: Music, Dance, and Drama Activities for Kids by Lisa Bany-Winters
Gotta dance! Gotta sing! Gotta do most anything because it's show time! In Show Time! kids will learn to become "triple threat" performers, developing their skills as singers, dancers, and actors through more than 80 activities that include imitating a musician or musical instrument, acting out a song, creating a mirror dance, making puppets and playbills, and more. Along the way, they'll learn about the history of musicals, discover musicals about history, and find out how to get it all together before the curtain goes up. Show Time! is perfect for teachers needing to prepare performers for a show; for parents looking for fun ways to fill spare minutes with their kids at home, in the car, or in a doctor's waiting room; and for kids wanting ways to enjoy themselves on their own or in a small group. Several play scripts, a list of suggested musicals for kids, and a play glossary are included.
Buy it now on Amazon
Funny Bones: Comedy Games and Activities for Kids by Lisa Bany-Winters
Kids love to be funny! Every classroom or neighborhood has a kid whose greatest ambition is to make people laugh—and all kids love to laugh at the jokes and antics of their friends. Funny Bones is designed to bring out the humor in every kid. For those who already have a comic streak, it provides wonderful new material for routines and scenes. For shyer children, it boosts self-confidence and a sense of fun. The first few chapters tackle the idea of comedy and what makes it funny, introducing famous comedians like Charlie Chaplin and Lily Tomlin and a variety of ways for young comics to create a trademark style. Later chapters offer hilarious improv games and valuable tips—for instance, don't ask questions in improv routines, but instead make statements that other actors can build on. The book concludes with comedic scenes for young people and suggestions for comedic play that kids can perform.
Buy it now on Amazon
On Stage: Theater Games and Activities for Kids by Lisa Bany-Winters
Lights, camera, play! With this second edition of On Stage: Theater Games and Activities for Kids, budding thespians will have fun under the footlights as they choose from more than 125 theater games that spark creativity, boost confidence, and encourage collaboration. They'll learn all about how to make a stage performance great with improvisational games such as Freeze, Party Quirks, the Yes Game, and Gibberish; they'll make puppets, discover makeup secrets, and design and build a set. This revised and expanded edition features 35 new improvisational games and ready-to-use monologues, scenes, and short plays. Whether playing alone or in a group, everyone can have theater fun with On Stage!
Buy it now on Amazon
Family Fun Nights: 140 Activities the Whole Family Will Enjoy by Lisa Bany-Winters
Filled with imaginative activities to bring the family together and create lifelong memories, this resource for parents and grandparents is full of activity ideas that require little or no preparation and use materials that are easily found around the house. The 26 themed family events and 140 related activities go beyond game night and movie night by creating family traditions that kids will remember and look forward to repeating. Families laugh together on "Giggle Night" or "Opposite Night," explore during "Animal Night" and "Science Night," or scare themselves silly on "Spooky Night" and "Mystery Night." Everything needed to make the night complete is detailed, including skits, songs, crafts, games, and recipes.
Buy it now on Amazon
Improvisation for the Theater: A Handbook of Teaching and Directing Techniques by Viola Spolin
Viola Spolin's improvisational techniques changed the very nature and practice of modern theater. The first two editions of Improvisation for the Theater sold more than 100,000 copies and inspired actors, directors, teachers, and writers in theater, television, film. These techniques have also influenced the fields of education, mental health, social work, and psychology.
Buy it now on Amazon
Theater Games for the Lone Actor by Viola Spolin
This handbook presents theatre games and side coaching for the solo player. It contains over 40 exercises which allow actors to side coach themselves, at home, in rehearsal, or in performance. The author asks the actor to develop the ability to enter present time, a moment of full consciousness and awareness with all the responses awake and alert, ready to guide you.... allowing you, the real you, your natural self to emerge.
Buy it now on Amazon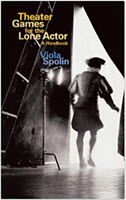 Theatrical Improvisation, Consciousness, and Cognition by Clayton D. Drinko
Improvisation teachers have long known that the human mind could be trained to be effortlessly spontaneous and intuitive. Drinko explores what these improvisation teachers knew about improvisation's effects on consciousness and cognition and compares these theories to current findings in cognitive neuroscience, psychology, and philosophy.
Buy it now on Amazon
Improv Made Easier (2019) by Rich Baker
Improv Made Easier (2019)
At times, improvisation can be esoteric, complicated, or downright scary. In his book, 'Improv Made Easier' twenty-year performer veteran Rich Baker (writer, Epic Rap Battles of History) reframes improv instruction in a way that makes it concrete, simple, and even fun.
101 Improv Games for Children and Adults (2004) by Bob Bedore
101 Improv Games for Children and Adults (2004)
What improv is all about and how to do it, special instructions for how to teach improv to children, plus more advanced training on how to use your voice and body in ways you haven't thought of before.
Improvise This!: How to Think on Your Feet so You Don't Fall on Your Face by Mark Bergen
Businesses are sending their top managers to improvisational classes to learn how to give presentations, how to talk to clients, and how to finesse difficult situations. But those same skills can be mastered with the help of the simple and fun exercises found in this book. The authors explain how improvisation comes into play in our daily lives, and the rewards of taking risks in those situations. Improvise This! is filled with true-to-life business scenarios and offers methods for not only surviving but triumphing in those situations, making this a valuable and entertaining resource.
The Rainbow of Desire: The Boal Method of Theatre and Therapy by Augusto Boal
Rainbow of Desire is a handbook of exercises with a difference. It is Augusto Boal's bold and brilliant statement about the therapeutic ability of theatre to liberate individuals and change lives. Now translated into English and comprehensively updated from the French, Rainbow of Desire sets out the techniques which help us `see' for the first time the oppressions we have internalised.
Improvising Better: A Guide for the Working Improviser by Jimmy Carrane and Liz Allen
Improvising Better is an easy to read self-help book created with the new generation of improviser in mind. It's written for today's performers, looking for a quick fix to their performance problems. This book is a fast read with long-lasting results.
One Rule Improv: The Fast, Easy, No Fear Approach to Teaching, Learning and Applying Improv by Mary DeMichele
One Rule Improv presents a fast and easy approach to understanding improv so anyone who wants to learn, teach or apply improv to their lives or in the workplace can do so with confidence. This approach works for both the performer and the non-performer, the extrovert and introvert, for the enthusiastic participant and for the person uninterested or apprehensive about improv.
Playful Mindfulness: a joyful journey to everyday confidence, calm, and connection by Ted DesMaisons
Playful Mindfulness introduces wisdom from the worlds of mindfulness (paying attention to the present moment with curiosity and kindness) and improvisation (making life up courageously as you go along) so you can find, feel, and enjoy greater confidence, calm, and connection.
Applied Improvisation: Leading, Collaborating, and Creating Beyond the Theatre by Theresa Robbins Dudeck and Caitlin McClure
This collection of Applied Improvisation stories and strategies draws back the curtain on an exciting, innovative, growing field of practice and research that is changing the way people lead, create, and collaborate. Applied Improvisation is the umbrella term widely used to denote the application of improvised theatre's theories, tenets, games, techniques, and exercises beyond conventional theatre spaces, to foster the growth and/or development of flexible structures, new mindsets, and a range of inter and intra-personal skills required in today's volatile and uncertain world. This edited collection offers one of the first surveys of the range of practice, featuring 12 in-depth case studies by leading Applied Improvisation practitioners and a foreword by Phelim McDermott and Lee Simpson.
Improvisation for the Spirit: Live a More Creative, Spontaneous, and Courageous Life Using the Tools of Improv Comedy by Katie Goodman
Comedy improv requires quick thinking, collaboration, getting out of your own way, and being in the moment without being a perfectionist. Katie Goodman, an internationally touring improv comedian and comedy writer, uses her witty and encouraging style to show you how to acquire the skills of improv comedy and apply them to every aspect of daily life. Along the way Goodman shares hilarious and insightful stories from her experiences onstage, as well as step-by-step exercises from her popular self-discovery workshops and retreats. Packed with creative, original, and, most importantly, fun exercises, Improvisation for the Spirit offers a truly transformational guide for anyone wanting to get more out of life.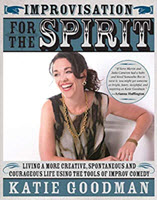 58 1/2 Ways to Improvise in Training: Improvisation Games and Activities for Workshops, Courses and Team Meetings by Paul Z. Jackson
58 Ways to Improvise in Training is a 'hands on' book full of ideas to help trainers energise groups large and small.
Improvisation at the Speed of Life: The TJ and Dave Book
T.J. and David are internationally known, award-winning, master improvisers from Chicago's legendary scene. This in-depth look at the techniques, principles, theory and ideas behind what they do is both authoritative and entertaining. Since their early years playing the iO (formerly Improv Olympic) and the Second City mainstage theater (where David won a Joseph Jefferson award for best actor in a revue), TJ and Dave have been performing for over fifty years combined - fifteen as a team. David worked with improvisation guru Del Close, in development of the The Harold, the preeminent longform theatrical structure, and both are multi-award winning actors.
Impro for Storytellers by Keith Johnstone
Since the sixties, Keith Johnstone has led the work on improvisation in theatre, schools and universities. His unique ideas, set out in the classic text, Impro, have now been taken up by practitioners the world over. Impro for Storytellers builds on and extends the seminal earlier work.
Life Unscripted: Using Improv Principles to Get Unstuck, Boost Confidence, and Transform Your Life by Jeff Katzman M.D. (Author), Dan O'Connor
Learn to collaborate with others, think on your feet, and celebrate mistakes using the skills of improv theater
So many of us go through life following scripts we didn't write for ourselves—scripts designed by our family, shaped by our friends, and influenced by the expectations of the people we meet. Using practical self-help skills rooted in improv principles and depth psychology, we can live more authentic, fulfilled, and empowered lives.
Improv Yourself: Business Spontaneity at the Speed of Thought by Joseph A. Keef
Discover your improvisational skills for a more productive, more dynamic work life
Whether we know it or not, most of us use our improvisational skills every day in the workplace when we deal with clients and colleagues. Improv Yourself shows the reader in clear detail how to use and hone improvisational skills for better business interactions and a more productive work environment. Business expert and all-around funny guy Joe Keefe offers expert guidance on nurturing our improvisational skills to help us think on our feet, deal with customers, interact with team members, present new ideas, and brainstorm.
Improv with Older Actors--Book and Flash Card Set by Rick Kerby
Improvisation is easy, quick, and stimulating. In fact, it's a hit with older actors. The free-flowing format brings out the creativity in everyone as strangers become friends. Everything is fresh because in an improv, you never know what will happen next! Use this book to learn the basics, explore warm ups, incorporate memories, and build stories. Discover how easy it is to transform the improvs from classroom to performance. Understand how to adapt improvs for those with mobility issues. This useful guide, filled with great ideas, will be one you'll turn to time and again.
Training to Imagine: Practical Improvisational Theatre Techniques for Trainers and Managers to Enhance Creativity, Teamwork, Leadership, and Learning by Kat Koppett
Creating innovative products and game-changing processes, and adapting to new cultures and communication styles, have all become imperative for business survival. Today's business leaders, from Fortune 500 companies on down, have discovered the value of improvisational theatre techniques to develop creativity and collaboration skills they need.
How to Teach Improvised Comedy: Using the Science of Expertise to Develop Masterful Improvisors by Jason Lewis
Use the Science of Expertise in your Improv teaching practice to create better improvisors, faster. Learn how expert improvisors are really made, the one tool that trumps a class "purpose", how to design drills that work, and how most improv teachers are side-coaching incorrectly. With 53 specific, usable tools this book will improve your improv coaching, directing or teaching right away. Each tool is backed by research and uses the latest findings in neuroscience, education, sport and the arts to make a difference.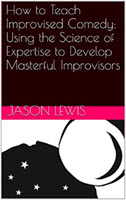 Improvisation, Inc. : An Applied Improvisation Handbook by Robert Lowe
A practical handbook for all who are engaged in the applications of Improvisational Theatre techniques, practices, and philosophies within, and beyond the theatre, in aid of a global revolution in human communication and organization. Joyousness, Communication, BusinessTraining and Philosophy.
Improv Wisdom: Don't Prepare, Just Show Up by Patricia Ryan Madson
Improv Wisdom shows how to apply the maxims of improvisational theater to real-life challenges—whether it's dealing with a demanding boss, a tired child, or one of life's never-ending surprises. Patricia Madson distills thirty years of experience into thirteen simple strategies, including "Say Yes," "Start Anywhere," "Face the Facts," and "Make Mistakes, Please," helping readers to loosen up, think on their feet, and take on everything life has to offer with skill, chutzpah, and a sense of humor.
Pirate Robot Ninja: An Improv Fable by Billy Merritt
As an improv comedian: are you a pirate, robot or ninja? Know your type so you can appreciate your strengths while also focusing on what you have left to learn. This book is 200 pages of lessons, exercises and metaphors designed by two teachers and performers from the Upright Citizens Brigade Theatres in New York and Los Angeles. Also, it's written as a fable where you are an "improv seeker" in an mysterious dojo hidden in the mountains.
The Art of Is: Improvising as a Way of Life by Stephen Nachmanovitch
Stephen Nachmanovitch's The Art of Is is a philosophical meditation on living, living fully, living in the present. To the author, an improvisation is a co-creation that arises out of listening and mutual attentiveness, out of a universal bond of sharing that connects all humanity. It is a product of the nervous system, bigger than the brain and bigger than the body; it is a once-in-a-lifetime encounter, unprecedented and unrepeatable. Drawing from the wisdom of the ages, The Art of Is not only gives the reader an inside view of the states of mind that give rise to improvisation, it is also a celebration of the power of the human spirit, which — when exercised with love, immense patience, and discipline — is an antidote to hate.
Improvise: Scene from the Inside Out by Mick Napier
This expanded and revised edition has a new foreword by The Late Show host Stephen Colbert, additional advice and tips for success, and a full reproduction of Mick Napier's web journal from his time directing the famous show Paradigm Lost for The Second City that included Tina Fey, Rachel Dratch, and Kevin Dorff. Renowned improv instructor and award-winning director Mick Napier has been at the heart of the professional improvisation community for more than 25 years. The first edition of Improvise. quickly earned its position as necessary reading for improv students across the country and around the world and gave birth to a new generation of performers who questioned ""The Rules"" of improvisation. In this entertaining and incredibly informative book, Napier will teach you the essentials of... --Why ""The Rules"" don't matter --How to take care of yourself in a scene --Using context to your advantage --Effective two-person scenes --Balanced large-cast scenes --Successful auditioning --Solo exercises you can practice at home
Do Improvise: Less Push. More Pause. Better Results. by Robert Poynton
Everyday we deal with the unplanned and the unexpected – from a broken toaster to losing (or gaining) a major client. Our natural ability to improvise gets us through. But we feel as if we're winging it, rather than acting with courage and conviction.
Robert Poynton teaches an acclaimed method to some of the world's biggest brands and companies. Improvisational skills that an actor might use on stage are honed and applied to the everyday business of work and life. The end result is a new approach that embraces change as a natural process and has creativity and innovation at its heart.
Everything's An Offer: How to do more with less by Robert Poynton
Everything s an Offer' tells the story of one business person's adventure in the world of improvisational theatre. It explains how the practises improv is based on can help you make more with what you have, using less effort, less energy and less resources (whilst creating less difficulty and stress). It illustrates, with myriad examples and stories, how anybody leading a busy and complicated life can put these ideas into action and why doing so will help them lead a more satisfying, creative and sustainable life. It extends the applications of improv far beyond team building and offers a new language for thinking about how we go about business - a language that has been used by Fortune 500 companies such as Nike, Intel and FedEx to help them communicate better, build stronger relationships (internally or with customers), propel people into action and get to new ideas and solutions.
The Improv Handbook: The Ultimate Guide to Improvising in Comedy, Theatre, and Beyond by Tom Salinsk
The Improv Handbook is the most comprehensive, smart, helpful and inspiring guide to improv available today. Applicable to comedians, actors, public speakers and anyone who needs to think on their toes, it features a range of games, interviews, descriptions and exercises that illuminate and illustrate the exciting world of improvised performance.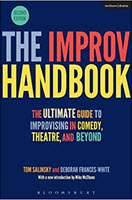 Easy Street: A Guide For Players In Improvised Interactive Environmental Performance, Walkaround Entertainment, And First-Person Historical Interpretation by Ann-Elizabeth Shapera
Easy Street is a guide for players in improvised interactive environmental performance, walkaround entertainment, and first-person historical reenacting. It's also about much, much more than that, because the principles of effective Street play apply to any situation involving connections between people: sellers and customers, teachers and students, service providers and clients, programmers and end-users, co-workers, teammates, and fellow members of Leagues of Superheroes thrive wildly when these principles are in play.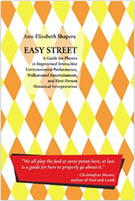 Social Nonsense: Creative Diversions for Two or More Players - Anytime, Anywhere by Doug J Shaw
Social Nonsense is a collection of fun activities you can do after you've ordered at a restaurant and are waiting for your food; when everyone is chilling in your living or dorm room; when you want to have kids do an interesting and creative activity in a group setting; whenever you have a little extra time with your friends and your hands are moving dangerously close to your phones.
The Improviser's Way: A Longform Workbook by Katy Schutte
Structured as a twelve-week course, this book provides techniques, advice and exercises that can be done on your own or in groups – with activities to complete as you go – for learning faster and becoming (more) amazing at improvisation. It draws on the author's own experience of performing and teaching improv around the world, with added gems of wisdom from key experts.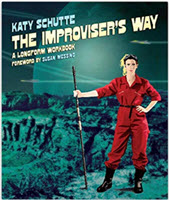 Healing Improv: A Journey Through Grief to Laughter by Bart Sumner
In 2009 Bart Sumner's life was shattered when his 10-year-old son, David, suffered a traumatic brain injury at football practice and died in his arms. Finding a way back to the road forward in a world where mourners are told "He's in a better place" or to "Get over it" is a daunting and painful journey. He came to realize that the twenty-five plus years he spent as a performer and teacher of improvisational comedy was not only the key to his own survival, but also a powerful tool to help others mired in grief. Healing Improv: A Journey Through Grief to Laughter is an emotional and honest recounting of his family's trek through grief to the founding of a nonprofit that provides no-cost Comedy Improv Grief Workshops for others suffering with loss. Mr. Sumner's approach is unique in its application of improv comedy exercises to grief treatment. Healing Improv includes many of the improv games used at Healing Improv workshops so that others can also benefit from the curative, life affirming fun. Pairing these techniques with his family's powerful and touching story of survival makes this book a strong ally to those who feel lost and alone after tragedy strikes, providing comfort and hope.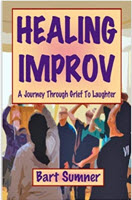 Innovation At the Speed of Laughter: 8 Secrets to World Class Idea Generation by John Sweeney
Innovation at the Speed of Laughter explores the unexpected ways in which the tools of improvisational comedy can improve business performance. Combining his insights as a successful businessman with his expertise as a performer, John Sweeney reveals eight secrets to jump-starting workplace creativity and corporate ideation developed from the quirky, spontaneous art form of improvisation. The secrets include 'Accepting All Ideas,' 'Deferring Judgment,' and 'Creating a Statusless Environment.'
Buy it now on Amazon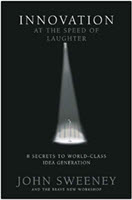 The Triangle of the Scene: A simple, practical, powerful method for approaching improvisation by Paul Vaillancourt
In The Triangle of the Scene, veteran improv teacher and performer Paul Vaillancourt lays out a simple set of tools that enable improvisors old and new to use the three basic elements of a scene to super-charge their work and take it to the next level. In this book, Paul shows you how to better connect with your partner, how to use the 'where', and how to find the ever elusive game of the scene. The Triangle of the Scene is also the first improv book to use embedded videos to allow readers to see the book's exercises and techniques in action. With 30 years of experience performing and teaching improv Paul (the Co-founder of the iO West and member of the legendary improv group Beer, Shark, Mice) shares with you the techniques that he has used to help thousands of students become more fearless, confident, and powerful improvisors.
Buy it now on Amazon
Recently single, Danny Wallace was falling into loneliness and isolation. When a stranger on a bus advises, "Say yes more," Wallace vows to say yes to every offer, invitation, challenge, and chance.
In Yes Man, Wallace recounts his months-long commitment to complete openness with profound insight and humbling honesty. Saying yes takes Wallace into a new plane of existence: a place where money comes as easily as it goes, nodding a lot can lead to a long weekend overseas with new friends, and romance isn't as complicated as it seems. Yes eventually leads to the biggest question of all: "Do you, Danny Wallace, take this woman . . ."
Yes Man is inspiring proof that a little willingness can take anyone to the most wonderful of places.
Buy it now on Amazon
The Brain's Playground: Using Improv Games To Teach Social And Emotional Learning by Maja Watkins
The Brain's Playground: Using Improv Games To Teach Social and Emotional Learning is a textbook that supports individuals with Social and Emotional Learning using improv games. Social and Emotional Learning (www.casel.org) includes five areas: social awareness, relationship skills, self-management, responsible decision-making and self-awareness. Improv games are used to create teachable moments when working with individuals of all abilities. Improv games help individuals to learn and connect while having fun in inclusive settings. The Brain's Playground: Using Improv Games To Teach Social and Emotional Learning promotes connection through enjoyable activities that build relationships, improves social skills and increases verbal and nonverbal communication. The Brain's Playground: Using Improv Games To Teach Social and Emotional Learning is a tool to be used by providers in the field of education, special education, psychology and more. Improv is used not only in theater, but in life.
Buy it now on Amazon