About the Training
Come have fun, learn and play online at our Improv for Therapists classes on Friday mornings!
Improv Therapy Group is the manifestation of a profound connection between life skills and improvisation training. Improv classes provide a safe space to practice imperfection, let go of control and practice mindfulness while having fun and laughing.
We will leave time to process how the communication techniques learned in these games and exercises have been applied to Dialectical Behavior Therapy, Group Therapy, Couples Therapy and Individual Therapy.
We welcome all practitioners and counselors!
Training Schedule
Start Date:  September 29, 2023
End Date:   November 17, 2023
11:00 am to 12:15 pm EST
10:00 am to 11:15 am CST
9:00 am to 10:15 am MST
8:00 am to 9:00 am PST
All classes meet for eight weeks on Zoom.
EACH WEEKLY CLASS EARNS 1.25 CONTINUING EDUCATION UNITS (CEU)
Registration
"Ability to engage in storytelling is incredibly beneficial to the populations I serve."
"I have the awareness to develop today's training as a tool to connect well with others."
"I feel that I will use this unit in groups to foster empathy and encourage connection in a safe space."
"I work a lot with adolescent who struggle with emotions so this will be helpful."
"I am likely to use the "Reminds Me of..." with couples who have trouble connecting and listening to each other."
"I can use this with my elderly mother who is a stroke victim as well as some of my older clients..especially the alphabet game."
"Directly applicable to the way I lead my inpatient groups."
Here are the modules you will learn, practice and be able to incorporate into your practice:
MAGIC WORDS: Communication and "Yes, and"
PERFECT IS BORING: Embracing Imperfection
BRAIN YOGA: Cognitive Flexibility, Neuroplasticity and Memory
I SECOND THAT EMOTION: Emotional Intelligence and Empathy
OUR STORIES OURSELVES: Creative Storytelling and Expression
HEAL THYSELF: Stress Reduction and Self Care
FOLLOW THE FEAR: It's OK to Fail
IN THE NOW: Mindfulness and Being Present
CEU CREDITS AVAILABLE FOR ALL CLASSES!
CEUs are issued by Riveredge Hospital, an approved continuing education provider by the State of Illinois Department of Financial and Professional Regulation, available for LSW, LCSW, LPC, and LCPC licenses.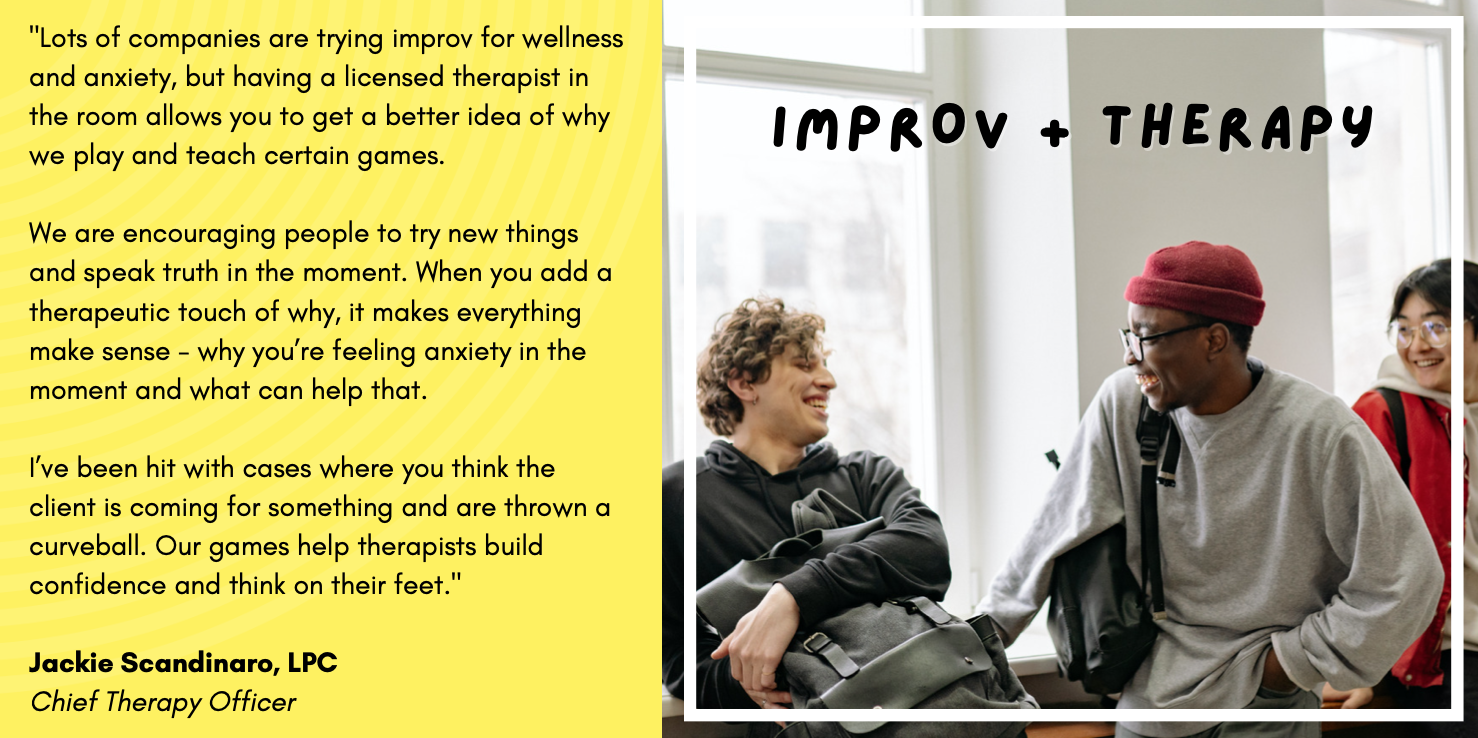 Vacation already planned? Have an emergency come up? We get it; life happens. Improv Therapy Group is pleased to offer one make up class per 8 week term for extenuating circumstances. Please communicate with your instructors to schedule. Make-up classes are subject to availability.