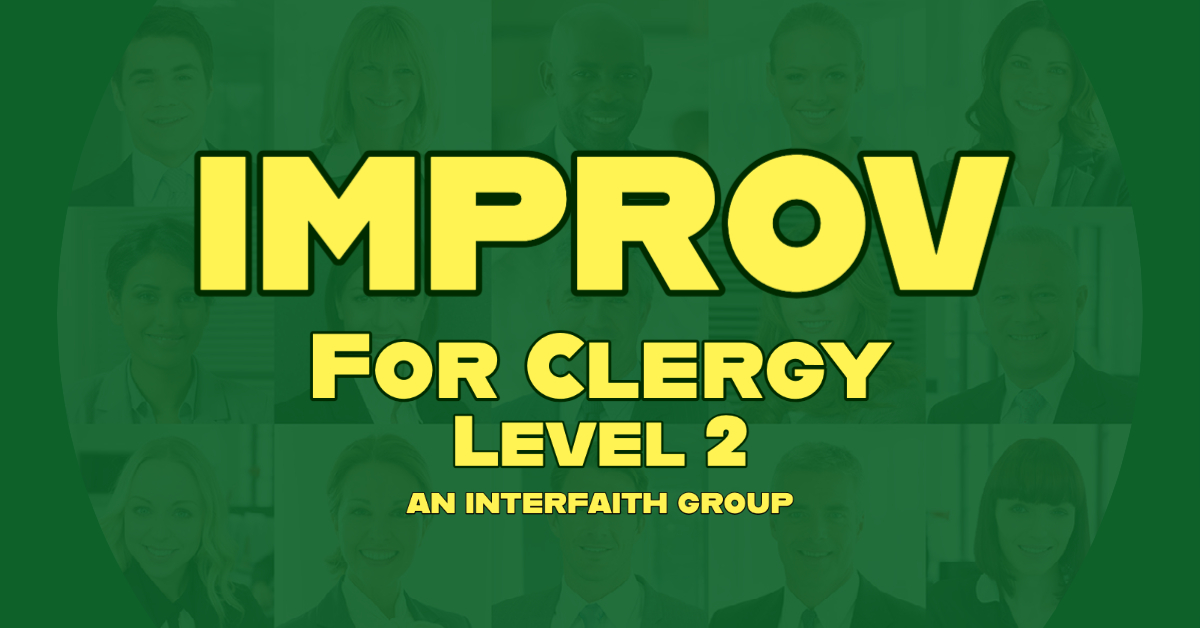 "We're all improvisers, whether we realize it or not," says MaryAnn McKibben Dana, author of God, Improv, and the Art of Living.
Join us for our Virtual Improv for Clergy Level 2 Classes
Come have fun, learn and play online. Join our "Improv For Clergy Level 2" class, an interfaith program.
This next-level provides a deepening and broadening of your core improv skills learned in Improv For Clergy Level 1.  As improvisers, you will expand your skills by exploring new games and exercises.
Each week will also include a discussion on how the games and exercises are related to the work of religious leaders.
Working with small groups of congregants and parishioners

Working with church and synagogue staff

Working with the fundraising and special interest committees

Working with youth groups
This course is designed to provide you with a safe space to engage in self-care and well-being with other ministers. These troubled times have generated additional stress for clergy members, and there is little opportunity for relief.
All classes meet on ZOOM.
"Ability to engage in storytelling is incredibly beneficial to the populations I serve."
"I have the awareness to develop today's training as a tool to connect well with others."
"I feel that I will use this unit in groups to foster empathy and encourage connection in a safe space."
"I work a lot with adolescents who struggle with emotions, so this will be helpful."
"I am likely to use the "Reminds Me of..." with couples who have trouble connecting and listening to each other."
Mondays Afternoons - Term 1 - 2022
IMPROV FOR CLERGY: Level Two
For Clergy, Ministers & Rabbis Only
8 weeks
Mondays from 4:30pm to 5:45pm CST
Classes are weekly on Mondays
5:30pm to 6:45pm EST
4:30pm to 5:45pm CST
3:30pm to 4:45pm MST
2:30pm to 3:45pm PST
Start Date: Jan 24, 2022
End Date: Mar 14, 2022
Registration:
$295 EARLY BIRD PRICING
$360 Regular Price
LISA BANY
Lisa Bany is Chief Improv Officer at Improv Therapy Group. Lisa is an instructor, director and coach at The Second City. She has authored numerous books, including On Stage: Theatre Games and Activities for Kids, which was awarded the Parent's Choice Approval Seal for Excellence in Education, has been translated into German and Korean, and is sold around the world. She started teaching at The Second City in the early nineties and has directed and taught throughout the Chicagoland area. Lisa was one of the first teachers in the Second City Wellness Program where she has taught Improv for Anxiety, Improv for Parkinson's Patients and their Caregivers, and Improv for the Autism Spectrum.
A graduate of Columbia College, Lisa has taught improv with The Association for Applied and Therapeutic Humor, The National Alliance on Mental Illness, and Arlyn School for teens with Anxiety and Autism Spectrum Disorder. She has also created and directed performing arts summer camp programs with Play On, Northlight Theatre, Light Opera Works and the JCCs of Chicago.
MARCY BAIN
Marcy graduated from Princeton Theological Seminary in 2008, and she graduated Central Michigan University in 2003 with a Masters of Science in Administration. She is bivocational, engaging a dual career in Government/Military and as an ordained Presbyterian Reverend.
For over 20 years her professional focus has included serving military/government and religious communities. She has provided conference workshops, one-one-one coaching, community events, and interdisciplinary programming to promote creativity, spirituality, social justice causes, self-care, and wellness.
She has worked within the contexts of faith communities, community non profits, the Veteran's Administration, hospital systems, and within the Federal Government to develop programming for her specialized populations.
She first became aware of Improv through a national conference setting in the early 2000s and she has pursued this art form ever since. Her specific areas of interest include: Improvisational therapeutic modalities, Circle Way Groups/Group Process, Cultural Intersections of Creativity/Spirituality/Social Justice, Creativity and Coming to Voice.