Meet the Ensemble
Lisa Bany / Chief Improv Officer
Lisa Bany (she/her) is an instructor, director and coach at The Second City. She has authored numerous books, including On Stage: Theatre Games and Activities for Kids, which was awarded the Parent's Choice Approval Seal for Excellence in Education, has been translated into German and Korean, and is sold around the world.
She started teaching at The Second City in the early nineties and has directed and taught throughout the Chicagoland area. Lisa was one of the first teachers in the Second City Wellness Program where she has taught Improv for Anxiety, Improv for Parkinson's Patients and their Caregivers, and Improv for the Autism Spectrum.
A graduate of Columbia College, Lisa has taught improv with The Association for Applied and Therapeutic Humor, The National Alliance on Mental Illness, and Arlyn School for teens with Anxiety and Autism Spectrum Disorder. She has also created and directed performing arts summer camp programs with Play On, Northlight Theatre, Light Opera Works and the JCCs of Chicago.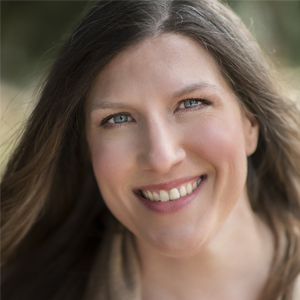 Angela Nino / Chief Executive Officer
Angela Nino (she/her) has an extensive background in teaching business leaders how to have difficult conversations. She is a veteran instructor in training workplace investigators to engage empathy, a technique that has influenced private enterprises, Fortune 500 companies and government agencies.
She regularly leads applied improvisation groups for addiction and recovery treatment programs. Her techniques include the use of games, exercises and storytelling as a tool for building trust in a conversation.  Angela is a graduate of the Second City Training Center improv program and has performed in several Second City Training Center shows.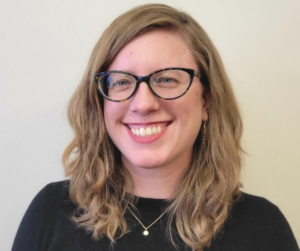 Chris Lunsford / Chief Operating Officer
Chris Lunsford (she/her), LCSW, is the Chief Operating Officer at Sanctuary Counseling of WNY, Improv Therapy Group, and Empathic Workplace. Chris' work with these organizations focuses on providing trauma informed and inclusive healing modalities to diverse populations within Western New York and worldwide.
Chris has over 15 years of experience in organizational development and leadership, clinical counseling, supervision, program development, and is a skilled facilitator and trainer. Chris is also certified Dare to Lead ™ facilitator, an EMDR Certified Clinician and Consultant in Training, and a yoga teacher. She leads grounded in her value of courage; this value drives her clinical work and her work in leadership development. Chris uses the tenants of Dare to Lead™️ to build trust in teams using the lens of social justice, inclusion and belonging.
Chris believes in the power of improv and has personally experienced the power of "Yes, And " in her life. She is passionate about connecting others to this powerful modality whether it be for clinical, professional, or leadership development. Chris works to help others show up in the world authentically and courageously. She supports others in building emotional intelligence and psychological flexibility in order to facilitate personal and collective healing. She believes that the practice of improv helps others to build compassionate connections with ourselves and within our communities.
Rick Levine / Co-Founder & Webmaster
Rick Levine (he/him) is an entrepreneur with an artistic side. He co-founded Act I Bookstore, PerformInk Newspaper, UniformMarket, Sellers Commerce, Intrackt, Improv Therapy Group, and Forest & Thread. He is currently the Executive Director of the Network Association of Uniform Manufacturers & Distributors (NAUMD). He has been a part of several improv groups over the years and performed in non-equity productions. He is a graduate of the Second City Improv Training Program and has a degree in Theatre from Macalester College.
Raashi Bhatnagar / EmpowerU Platform Architect
Raashi Bhatnagar (she/her) is the architect for the e-learning platform called EmpowerU. She is an engineer, entrepreneur, and conscious innovator who graduated with a Master's in Management from Harvard.
Raashi started her career as an analyst and found her way into the world of Improv through Leela, the San Francisco Improv Theater Company. From the start, Raashi saw the value of Improv in building inter and intra-personal skills. Shortly after completing her own Improv classes, she started hosting communication workshops built on improv games as an alumnus at UCSC. A few years later, she wanted to expand the reach of Improv, so she started reaching out to various companies that were bringing Improv into new domains like education, health, and therapy.
When she connected with Improv Therapy Group, she knew this would be the perfect place to bring together her IT/management skills and love for Improv. Together, Raashi and ITG envisioned and created an e-learning platform where geography and time zones would not limit those wishing to learn about Improv and its applications to Therapy.
Whitney Wasson / Marketing Director
Whitney Wasson (they/them) is Improv Therapy Group's one person marketing team. A versatile digital specialist, they have a diverse background in assisting arts and humanities orgs, creative small businesses, and fellow performers with copy writing, social media management and website design.
Originally from Arkansas, Whitney is a multi-disciplinary artist and performer. Pre-pandemic, they performed locally at Second City, iO, Steppenwolf, Laugh Factory, Zanies, and The Annoyance, in addition to clubs and comedy festivals throughout the country. Now primarily a visual artist, Whitney also draws the webcomic Sober Rabbit.
Jackie Scandinaro / Chief Therapy Officer
Jackie Scandinaro (she/her) is a Licensed Practicing Counselor (LPC) in the state of Illinois. Jackie earned her Master's Degree in Clinical Mental Health Counseling at Adler University and her Bachelor's Degree in Psychology from Central Connecticut State University.  She believes in the therapy of laughter and the power of "yes, and" while working with those who are looking for different ways to express themselves throughout their journey.
As an individual and group psychotherapist, Jackie enjoys establishing a connection, building respect and trust and providing empathy towards the clients, allowing their time to be safe and productive. Common therapeutic approaches Jackie may use within sessions are cognitive behavioral therapy (CBT), dialectical behavior therapy (DBT), acceptance and commitment therapy (ACT), solution-focused therapy, harm reduction techniques, and exposure and response prevention (ERP). She has experience working with a wide scope of clients, helping each manage inner battles with general anxiety, depression, career growth, communication, relationships, anxiety disorders/OCD or substance abuse/addiction.
While Jackie's experience has touched a number of populations, she strives to assist in self exploration and identify solutions to increase quality of life for each group and individual client. Interested in improv group therapy for yourself? Click here.

Gordon Smith / Improv Therapist
Gordon Smith (he/him) is a Licensed Clinical Mental Health Counselor and Coach, who has been practicing since 2000. Gordon's practice is composed of gifted adolescents and adults in locations around the world. He has presented at numerous conferences, including being a featured workshop presenter at the 2020 SENG Annual Conference.
In addition to his professional focus, Gordon has served as an elected member of Asheville, North Carolina's City Council, Director of GROW Conference AVL, Chair and member of multiple boards and commissions in western North Carolina. Service and compassion are at the center of Gordon's life and work, and he intends to extend those values through his work with Improv Therapy Group.

Marcy Bain / Instructor, Improv for Clergy
Marcy Bain (she/her) graduated from Princeton Theological Seminary in 2008, and she graduated Central Michigan University in 2003 with a Masters of Science in Administration. She is bivocational, engaging a dual career in Government/Military and as an ordained Presbyterian Reverend.
For over 20 years her professional focus has included serving military/government and religious communities.  She has provided conference workshops, one-one-one coaching, community events, and interdisciplinary programming to promote creativity, spirituality, social justice causes, self-care, and wellness.
She has worked within the contexts of faith communities, community non profits, the Veteran's Administration, hospital systems, and within the Federal Government to develop programming for her specialized populations.
She first became aware of Improv through a national conference setting in the early 2000s and she has pursued this art form ever since. Her specific areas of interest include: Improvisational therapeutic modalities, Circle Way Groups/Group Process, Cultural Intersections of Creativity/Spirituality/Social Justice, Creativity and Coming to Voice.

Megan Sweet, Instructor
Megan joins us as an Improv Instructor. Her focus is utilizing applied improvisation in crisis intervention work to expand creative thinking, gain confidence, social support, and to increase emotional wellbeing and self-care. Megan has experience utilizing crisis intervention with children and families in their homes, and with the Seattle Police Departments' Victim Support Team. In addition, Megan is the founder of IMPROVed Mind, dedicated to bringing applied improvisation, mindfulness, and social and emotional learning in the schools and the community. Megan performs stand-up, improv, and sketch comedy in the NJ/NYC area. In her spare time, Megan enjoys subjecting her family (especially her two young sons) to her various comedy ideas, reviewing bad movies, and trying her best at being a human.

Richard Berger / Instructor
Richard is a Licensed Marriage and Family Therapist, with a Master's degree and specialization in Couples, Child, and Family therapy from Antioch University in Seattle. As a therapist, advanced trainer in The Nurtured Heart Approach and an advanced Facilitator of iheart (innate health education and resilience training), Richard has led many therapeutic groups over the past 12 years.
Richard believes in the innate well-being of everyone, and coupled with his deep clinical understanding of stress, abuse, trauma, and complex oppression, allows him to be an effective group leader and facilitator.  He brings ingenuity, humor, and a positive approach to his work.  As an alumnus of the Improv Therapy Group's Levels one and two training, he has incorporated Improv into his practice and believes in the transformative power of Improv.
Barbara Mosier, Improv Therapist
Barbara is a LCSW currently living and working in the Chicagoland area. Barbara's love of performing started at a very young age. Barbara has a BS in Acting from Illinois State University and worked professionally in theater for 10 years, often using improvisation as part of her craft. Barbara continued her education by achieving her Masters in Social Work at Aurora University which then led her to become a Licensed Clinical Social Worker for the state of Illinois.
Barbara has worked as a clinical therapist in an inpatient hospital, therapeutic day school, and in the outpatient setting working with clients of all ages. Barbara was thrilled to be able to bring her two passions together in order to help her clients work through their anxiety, depression, and other issues in a non-traditional way. Barbara is excited to grow in her knowledge and bring this gift of improvisation to others, both clients and other professionals.