Join us for our Virtual Group Therapy Using Improv
REPEAL INHIBITION: Improv for Anxiety,
Managing the Unknown, and Embracing Play.
The current state of the world is uncertain, leaving many with feelings of anxiety and few options for an outlet to practice managing these emotions.
There is no script in improv.
Improv principles include following fears, embracing the unknown, supporting one another, allowing ourselves to receive support, learning to manage stress in the moment. Embracing imperfection. Letting go of control.
Improv is...
Games and exercises that help teach us to function in uncertainty. The same techniques that help us get out of our comfort zone in improv can help us manage our anxiety about the world around us.
Play that is vital for happiness and often the first thing sacrificed in the name of anything else. Creating a time and space for play and creativity is an investment in our mental health.
A safe space that provides a low stakes environment to explore new ways of responding and letting go of old defense mechanisms
A fun way to practice Dialectical Behavioral Therapy (DBT) skills: mindfulness, distress tolerance, emotional regulation and interpersonal effectiveness.
Just like Acceptance and Commitment Therapy (ACT) in that participants learn to stop avoiding, denying, and struggling with their inner emotions and, instead, accept that these deeper feelings are appropriate responses to certain situations that should not prevent them from moving forward in their lives.
Applying improvisation to real life situations is a quick way to improve our tolerance of accepting life on life's terms. The exercises improve our confidence to interact in a world that has always been uncertain.
These are closed groups, requiring an eight week commitment. These are not a drop in group.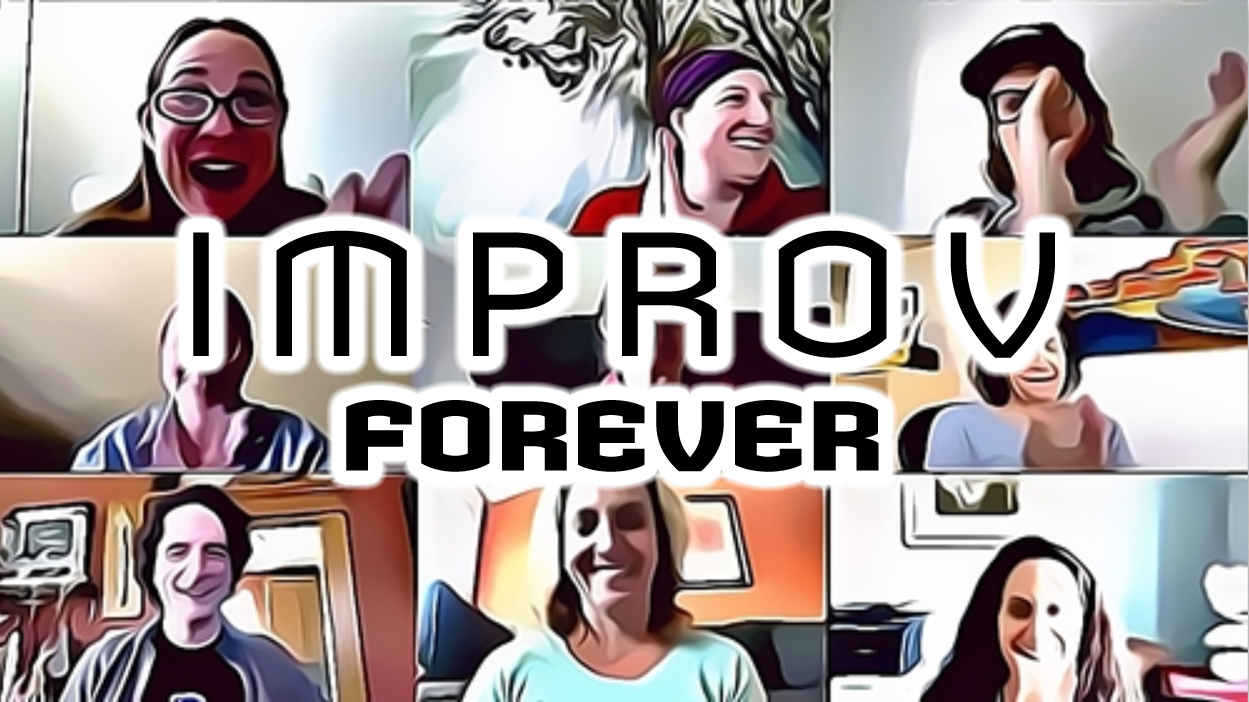 "Yes, and" applies to just about every damn thing in the world.
We are more confident and happier after an hour of playing improv games.
Improv makes us better partners, team members, and citizens because we have each other's back.
If you feel the same way, we invite you to join us.
We play games, talk, and laugh on ZOOM every Thursday night for 90 minutes.
What are you doing for your own mental health? Try improv for therapists.
Join us for laughter, self-care, and play with fellow therapists. We welcome all clinicians (interns included)!
We will leave time to process how the communication techniques learned in these games and exercises have been applied to Dialectical Behavior Therapy, Group Therapy, Couples Therapy and Individual Therapy.
Our IMPROV FOR THERAPISTS class teaches how to add improv games, exercises and practices into Dialectical Behavior Therapy, Group Therapy or Individual Therapy sessions.
We welcome all levels of clinicians. The class is great for therapists who want to learn how improv can be further engaged in their work as therapist for movement, drama, recovery, groups and even individuals.
Clinicians will enjoy an hour of laughter and self care with people who get it.
All classes are held online using ZOOM.
What are therapists telling us about their experience?
"Ability to engage in storytelling is incredibly beneficial to the populations I serve."
"I have the awareness to develop today's training as a tool to connect well with others."
"I feel that I will use this unit in groups to foster empathy and encourage connection in a safe space."
"I work a lot with adolescent who struggle with emotions so this will be helpful."
"I am likely to use the "Reminds Me of..." with couples who have trouble connecting and listening to each other."
"I can use this with my elderly mother who is a stroke victim as well as some of my older clients..especially the alphabet game."
"Directly applicable to the way I lead my inpatient groups."
SEPTEMBER/OCTOBER 2020 CLASS SCHEDULE!
Monday Evenings
IMPROV FOR THERAPISTS: Level One
For Clinicians Only
8 weeks
Mondays from 7:00pm to 8:15pm
September 7 to October 26, 2020
Registration: $360
Early Bird (through 8/21/2020): $295
Wednesday Evenings
IMPROV FOR THERAPISTS: Level One
For Clinicians Only
8 weeks
Wednesdays from 7:00 to 8:15 PM
September 9 to October 28, 2020
Registration: $360
Early Bird (through 8/21/2020): $295
Friday Afternoons
IMPROV FOR THERAPISTS: Level One
For Clinicians Only
8 weeks
Fridays from 12:00 to 1:15 PM
September 11 to October 30, 2020
Registration: $360
Early Bird (through 8/21/2020): $295
CEU CREDITS AVAILABLE FOR ALL CLASSES!
Improv For Therapists: Level Two
We put together a 4-week class to cover topics we do not cover in the 8-week class.
This is the second level of Improv Therapy Group training for clinicians and mental health professionals.
For those of you that have taken the 8-week Improv For Therapists class with Improv Therapy Group, this is another great chance to network and meet one another.  You are all so awesome and we think one big ensemble sounds kinda cool.
We believe in the healing power of laughter.
We believe in the concept of "Yes, and" to make sure every voice is heard and to listen and support the ensemble.
We embrace imperfection while we strive to be present in the moment.
OUR HERITAGE
In the 1920s, at the Hull House in Chicago, social worker, actress, educator, director, author, and the creator of theater games Viola Spolin used improvisation games to help immigrants acculturate into society. We build upon this heritage. We offer exercises that provide a safe place to get outside our comfort zone, learn to let go of perfection and be present in the moment. All of this while laughing and playing together.
CBS Profile Segment about Improv Therapy Group
Bring Applied Improvisation To Your Facility
Improv is an interactive way to achieve neuroplasticity (changing the brain).
Neural pathways in the brain are like footprints in snow.  When we walk the same path in the snow, we deepen and solidify the path.  When humans do the same action repeatedly we create a neural pathway in the brain, and the more we do that action, the more we deepen our neural pathways.  Taking the same path every time gets easier and easier.  Starting a new path is harder; in the snow and in our brains.
When it comes to someone with social anxiety, for example, there is path in the brain for social situations that has the body responding with symptoms of anxiety.  It is the same way with addictions; pathways in the brain seek a substance over and over again.
Neuroplasticity is changing those paths, and improv is a fun way to create new neural pathways in a safe environment.
Improv is NOT about practicing or giving attention to the addiction, mood disorder, or trauma.  It is about playfully training our brains to use the same skills found in healthy coping mechanisms.
Just by doing something new, that in itself changes the brain.  We get to experience emotions, stay in the moment, and embrace imperfection all while playing.  All of these skills are necessary in recovery.
WE TEACH YOU HOW TO USE IMPROV
Improv Therapy For Therapists
Are you a clinician interested in bringing improv therapy to your practice?
We have a course for therapists interested in applying improv games, exercises and practices into Dialectical Behavior Therapy, Group Therapy, or Individual Therapy sessions. We welcome all levels of clinicians, including movement therapists, drama therapists, interns and clinicians that just want to come engage in some laughter and self care with people who get it.
WE FACILITATE IMPROV FOR YOUR GROUPS
Improv Therapy For Individuals
Communicating with other people can be difficult.
Whether it's talking to strangers at a party or having an unpleasant conversation with your significant other, communication is a sometimes uncomfortable part of life. But it doesn't have to be so hard - talking and listening are actual skills that can be improved. And improv is a great way to work through communication blocks.
With structured rules, such as "Yes, and!" and "Always make your partner look good," improvisers quickly learn how to listen and agree with their peers. Being forced to focus on your partners needs will enhance empathy and an understanding of communal trust.
These practices teach helpful communication skills for group and one-on-one settings.
We Offer Learning & Participatory Modules that help Groups, Organizations, Teams and Individuals
Programs customized from a variety of sessions, workshops and improv jams.
MAGIC WORDS: Communication and Yes, And
HEAL THYSELF: Stress Reduction and Self Care
I SECOND THAT EMOTION: Emotional Intelligence and Empathy
ON THE SPOT: Public Speaking and Performance Anxiety/Stage Fright
REPEAL INHIBITION: Social Anxiety, Openness and Playfulness
UNITED STATES OF MIND: Closing Cultural and Language Gaps & Building Community Relationships
OUR STORIES OURSELVES: Creative Storytelling and Expression
FOLLOW THE FEAR: It's OK to Fail
PERFECT IS BORING: Embracing Imperfection
IN THE NOW: Mindfulness and Being Present
BRAIN YOGA: Cognitive Flexibility, Neuroplasticity and Memory